Glass Balustrade Installers in Harlow
Contempo Glass are a leading supplier of frameless glass balustrades in Harlow and surrounding areas, including frameless glass Juliette balconies.
Harlow Glass Balustrade
We pride ourselves on being one of Harlow's leading suppliers and fitters of domestic and commercial balustrades.
Our professional and trained Harlow team can supply and fit the finest quality balustrades, ensuring your new balustrade will look good for many years to come. We combine the beauty and transparency of glass, with the choice of natural wood or modern stainless steel to give the perfect finishing touch to your Harlow project, be it a patio, balcony, terrace, swimming pool or staircase.
We have a wide range of different balustrades, whether you're looking for a marine grade steel and glass balustrade or a sleek steel stairway balustrade, we can supply and fit to match your requirements.
Arrange a FREE quote for your Balustrade now:
Glass Balustrades Near Me
Glass balustrades can bring a real sense of contemporary style to a home or business. Made with strong laminated glass, our glass balustrades from Harlow will brighten up your working or living space and add an appealing architectural feature. We operate across Harlow and the surrounding areas.
Glass Balustrade Juliet Balcony in Harlow
Frameless glass balustrades can be integrated into a number of aluminium door frames to create a minimal Juliette Balcony for your Harlow property. Also known as a "balconette" or "French balcony" – the Juliet Balcony get its name from the famous balcony scene in Shakespeare's play "Romeo and Juliet".
Having a Juliet balcony installed from Contempo Glass is a great way to add many of the advantages of a balcony but without the structural complications and additional cost.
If you're looking for a reliable and trusted Juliet Balcony installer in Harlow, call Contempo Glass today on 01279 271107.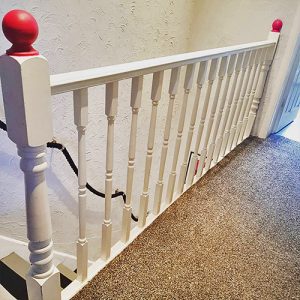 Harlow Decking Glass Balustrade
Here at Contempo Glass, we stock a wide range of glass balustrade styles and fittings for your Harlow decking. From minimalist infinity glass balustrades, to traditional post and rail systems, and even more bespoke solutions if required.
Adding balustrade to your decking can give it a more refined and elegant look as well as providing a safety barrier. Real wood or composite Harlow decking's are complemented well by our range of high-quality glass balustrade railing systems.
Not in Harlow? Still looking for Balustrades?
We provide bespoke balustrades for the following areas and all around Hertfordshire:
We also provide a range of glass splashbacks and bespoke shower screens in Harlow:
Balustrade Fitters in: